Hi friends and happy Friday!
I am super excited to share with you guys my first trimester must-haves. These items, products or technology helped me through serious spouts of morning sickness and understanding what the in the world was happening to my body inside and out. I know we are all different, but some of these items I found through other bloggers, mommas and forums, so if I can pass along any tips or insight, I am more than happy to.
First Trimester Favorites – How to Survive
One thing I learned right away is that my body is no longer my own. The first trimester was all about finding things that made me feel better (hello morning sickness), gave me some comfort and relief, and also prepped me for Baby Guster. Despite feeling like poo on a bun for six months, the excitement is unbelievable.
>>>The Snoogle. Around week 16 I started to struggle with sleep. As a belly sleeper, my growing bump was starting to create a problem and I would find myself tossing and turning throughout the night. I snagged a Snoogle thanks to some recommendations and have never looked back. It is so comfortable and helps me to sleep on my side and have a sound night's sleep.
>>> Vitamin Code Raw Prenatal Vitamins. I was taking prenatal vitamins that made me feel sick, then I read about these and I LOVE them. Vitamin Code Prenatal are filled with so many great things for you like broccoli, kale, celery, brussel sprouts, spinach, carrot, cauliflower, green bell pepper, blueberry and cucumber to list a few. I love knowing I am feeding myself and baby with some seriously good stuff!
>>> Bragg Organic Apple Cider Vinegar. The first trimester brought on serious morning sickness for six weeks. Some days I could not even get out of bed. I tried the standard tricks of saltines, bread, ginger ale and so on and so forth. But what helped me the most was my morning shot of apple cider vinegar. As a member of the Tone It Up plan, I took a shot in the morning for the purpose of increasing my metabolism and cleaning my system. I actually stopped when I found out I was pregnant, but one day when I was sick in bed I found a mom blog that said ACV is great for you! I ran downstairs, took a shot and haven't looked back.
>>> Apps. Pretty much the second I found out I was pregnant, I downloaded apps to my phone. I have been checking in with BabyCenter, the Bump, Sprout and What to Expect When Your Expecting. They each do essentially the same thing (tell you what size fruit your baby is each week) but each has its own cool twist. One has a to-do list, another a chat board, birth clubs and more. Plus, I'm crazy excited so four apps it is.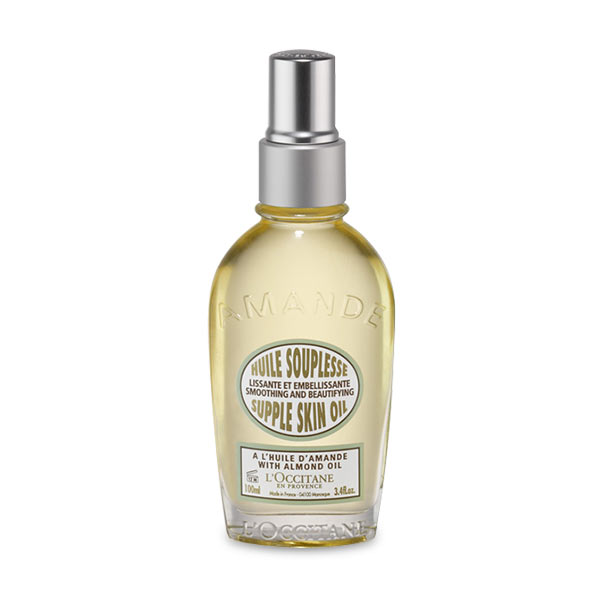 >>> L'Occitane Supple Skin Oil. I've always loved L'Occitane products and after I saw Gina mention this during her pregnancy, I decided to give it a try. You guys, I am obsessed in love. Almost 23 weeks in an no stretch marks! Plus the scent is deliciously rich with a touch of a sweet note. I have used this oil religiously every day after my morning shower.
>>> Starbucks Venti Water Tumbler! I have faithfully carried this big water tumbler every single day of my pregnancy. Granted, I did so even before I was pregnant, but it is such a great way to ensure you are getting in your fluids. If there is one thing pregnancy has done it's made me THIRSTY! I swear I can never get enough! I keep this with me and refill, refill, refill. This bad boy is also super durable and can sustain plenty of drops, the dishwasher and doesn't hold any flavors or scents.
>>> What to Expect When Your Expecting Book and App! My sister gifted me this book and I love reading up on what the baby is doing, how it is developing, reading about the changes in my body and providing some reassurance during a very crazy time. Every Sunday, Phil and I sit down and read what is happening the next week with baby and me. It is a great resource and we love the pictures, descriptions and laid back tone of the book. I love how I feel like I am talking to a girlfriend vs. a doctor using words I don't understand.
What are some of your favorite pregnancy products?
Did you have morning sickness?
Any suggestions for the next two trimesters?
See you tomorrow for my 22 Week Pregnancy update!!
XO-
BB
SOME AFFILIATE LINKS ARE INCLUDED IN THIS POST. AS ALWAYS, ALL OPINIONS ARE MY OWN.