Hey, hey, hey! I'm so happy the weekend is here! We have a lot of fun things on the agenda to celebrate the Easter holiday with our family. Mitch has his two and a half year check-up this morning and then we are packing and hitting the road for Traverse City for the long weekend!
Now I hope you're ready to chat about what we're loving most this week because it's time for your usual Things I'm Loving Friday blog post! Below you will find a short roundup of things that are making me smile right now and, as always, I'd love to hear a little bit about what you're loving in the comments section of this post.
Beauty and the Beast Movie
My inner child squealed with delight when I heard the movie was coming to the big screen. I've always been an avid reader and instantly fell in love with Belle for her similar love and of course, the brown hair. When I was young all of the leads were blonds, or even had red hair with The Little Mermaid. Any other brunettes feel me? But back to the movie – it was absolutely stunning and completely blew me away. Emma Watson is phenomenal as Belle, the set, costumes and singing is all perfection. My sister-in-law put it best when she said she'd seen it twice and would see it again in a heartbeat!
I've been all about the snack life lately, and yogurt with granola is one of my go-to options. While I've found other vanilla yogurts I've thought were decent in the past, I never found one that totally wow-ed me until Siggi's. It is, without a doubt, the best vanilla yogurt I've tried to date! It's incredibly thick – much like Greek yogurt though apparently it's skyr, a traditional yogurt from Iceland – and packed with 14 grams of protein and the perfect hint of vanilla from Madagascar bourbon vanilla. (You can even see the vanilla bean specs!) While all of that is great, I love the fact that it's not overwhelmingly sweet the most. It tastes rich and creamy without the typical sugar overload you find in most flavored yogurt these days. I eat it plain or topped with sliced kiwi, fresh berries or my favorite granola.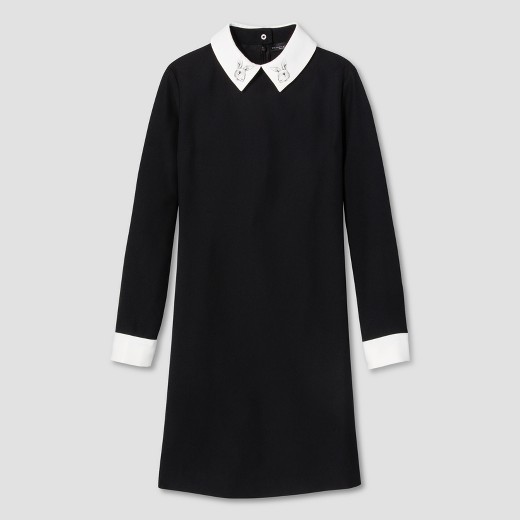 You guys, Target collaborations make me super giddy. I am not sure why, but I love that Target can pull in huge fashion lines and deliver an affordable option at one of the best places on earth. Last Sunday I stopped into Target after the gym to take a peak at the VB line and was blown away – the colors, cuts, styles were so fresh and fun. And she created an entire mommy and me line that will make your heart break for a little girl. I grabbed several pieces including the dress above that is so chic and has a fun twist of two bunnies – Victoria's nod to Alice in Wonderland, which inspired a portion of the line. And believe it or not, there are still a ton available on line. I grabbed this dress, these pants and this romper.
Food Network Spring Baking Championship
I've heard a lot of hype about Food Network's Baking Championship shows, mainly around the holidays. And while I cannot remember how I was initially pulled into the show, I was immediately hooked. A sweet combination of dynamic bakers from all backgrounds, challenges, twists and above all else, amazing creations that come together under the ticking clock. Phil and I were completely hooked on this show! I'm not sure the frequency of the competition, but you can be sure I'll have my DVR ready.
My Support System
The last two months have been filled with ups and downs as I navigated through a difficult situation. But I would not have been able to without the support of Phil and my boys. Taking a leap of faith is nerve-racking, to say the least, but knowing that you are supported and loved is immeasurable.
What is one thing you are loving this week?
Happy Easter and weekend!
XO. BB